This is not a solo path; good partnerships create good work.
"If you want to go faster, go alone. If you want to go farther, go together."
Project Partners
From a global network of top-tier leaders, I select each team to meet the unique needs of my clients. We work together from shared purpose, proven frameworks and a systems perspective. Here are some recent examples of partners with whom I'm honored to work.
On New Ground
Since 2015, I've been partnering with Nancy North of NewGround, engaging farmer-led networks in dialogue across the 5-state region of the Upper Mississippi River Basin to focus on peer learning for watershed quality. With the success of the pilot project, and thanks to the support of our funding partners, we're expanding the impact of this work. Read about our 2017 gathering here!
Stewarding in Asia
Stewarding the development of new fields in the Art of Hosting practice, I've been teaming up with Steve Ryman in Vietnam and Steve & Mary Alice Arthur in Japan over this past year. There is amazing energy for working in a new way and local practitioners like AoH steward Yurie Makihara are courageously stepping in.
Hosting Transformation
This talented team hosted a 3-day Art of Hosting training in St. Paul MN. Our invitation: In times of great complexity, there are no simple solutions. Knowing this: How do we begin building and sustaining collaborations across sectors that leverage resources, deepen relationships and create greater impact? Read about the team & the harvest here. We're in conversations about the next training and hope you'll join us!
A World Class Team
New Now, The Athena Group, Five Elements Consuting Group, and the Living Wholeness Institute joined me for a 16-month transformative change process with a congregation of Dominican nuns. The outcome was inspirational and courageous - the congregation is 'setting out anew together' focusing on current world needs including immigrants, refugees, anti-racism, and earth stewardship.
Joy, curiosity, authenticity, empathy, trusting relationship and fun - these are qualities I seek in project partners.
If that sounds like you too, let's talk about partnering!
Some of the leadership networks I work with include: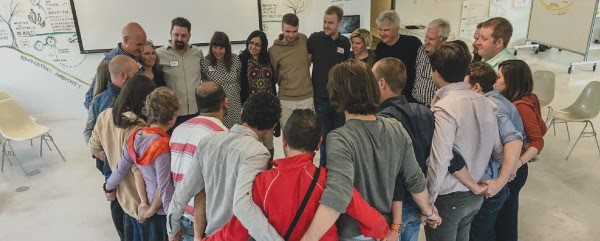 for my Communities of Practice